Services
Top Floor provides a wide range of home repairs and services including, but not limited to:
• Hardwood Flooring Installation and repair - Nail, Glue, Floating applications

• Cork Flooring Installation and repair - Glue-down floating applications

• Laminate Flooring Installation and repair

• Tile and Stone Installations and repair

• Carpet Installations and repair

• Woven Carpet Installations; with hand sewing

• Floor refinishing and waxing

• Concrete Moisture Testing - Calcium Chloride ASTM 1869 or Rh (Relative Humidity) ASTM F2170 w/ pH

• Floor covering Inspection and expert witness

• Dustless Concrete Grinding and Scarification/Adhesive Removal

*Service rate is hourly or bid
Moisture Testing: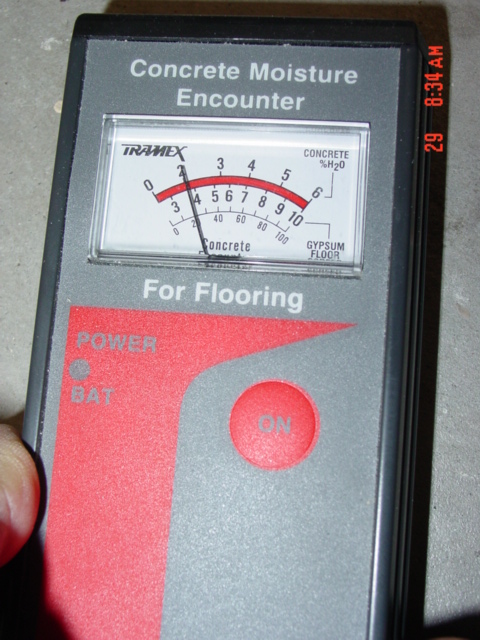 Tramex Concrete Meter showing a low reading of 2%. This is a qualitative test method and can easily be skewed by sealers, paint, adhesive residues or even a dew point problem in the room. This test is not conclusive and should only be used as an indicator unless the manufacturer states otherwise. However it should be documented for your warranty preservation.

Moisture testing concrete and substrates is required by virtually every floor  covering and adhesive manufacture to protect your floor and your warranty. At Top Floor Installation Co. We provide this service to other contracting firms and DIY'ers. It is not to be taken lightly, one needs to be trained to do this properly. I find that many contractors do not even bother with testing. This results in quite a few flooring failures.

We offer:

Calcium Chloride ASTM 1869 test and the newer Insitu ASTM F2170 Rh test with the newest technology provided by Wagner and their Rapid Rh Test kit. 

Site consultation for site grading issues, proper substrate and sub floor applications etc. 

Here's a look at some of the technological gadgets in use on the job. Every professional flooring contractor should have expert knowledge in performing these industry required field tests.
Watch this short video about how moisture equilibrates after floor covering is installed here.
Industry Myths: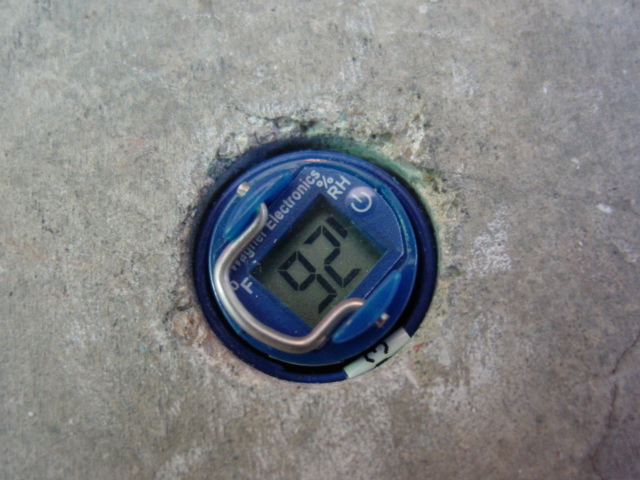 Wagner Rapid Rh probe inserted and reader showing 92% RH (Relative Humidity) in the slab which is outside the zone for hardwood installation.. Results within 1 hour after drilling hole, one trip to site.
Old concrete has less moisture emissions and issues
  If you have not had a moisture issue you never will
  pH of a slab is of no consequence
  My concrete meter is just as good as any moisture test
  There are no moisture emission problems in Arizona, it's a desert.